News / Press
2013 TrailerTail Project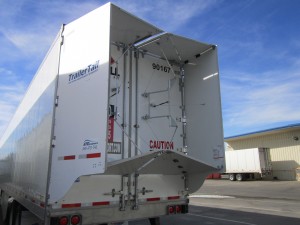 Russell Transport is proud to announce the addition of TrailerTail to our fleet. Durning 2013 we will be adding over 400 TrailerTails to our units.
TrailerTails® are the most durable, cost effective and efficient trailer rear drag aerodynamics technology in the history of the trucking industry. TrailerTails® are:
- Certified to deliver 6.6% fuel efficiency gains at 65 mph based on SAE Type II testing validated by the U.S. EPA, sufficient for standalone compliance with 2010 CARB regulations for trailer aerodynamics, and exempt from U.S. DOT length restrictions.
- Proven to perform in drop and hook dry van and refrigerated trailer operations in all weather environments.
- Essential to the profitability of any fleet operation accruing over 30,000 miles per year at highway speeds.
TrailerTails® work independently from trailer skirts to reduce the low pressure suction drag which occurs at the rear flat surface of a long-
haul trailer. TrailerTails® alone on average save truckers over 8 gallons of fuel for every 1,000 miles traveled at highway speeds.
Information provided by http://www.atdynamics.com/trailertail.htm