Company
While any transportation company can move freight, the real difference is in the execution of our customer needs. Russell Transport guarantees consistent and reliable dedicated service. We are a Tier 1 Supplier and Certified MBE transportation company with the experience to move freight safely and on time.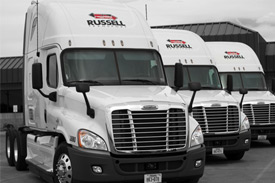 Russell Transport, Inc, , has been one of the top minority, woman owned transportation companies since 1993. Russell Transport, Inc.is presently recognized as one of the Top Diversity Owned Businesses in Texas, Top 100 Hispanic American Owned Businesses in the USA and the Top 500 Women owned business in the USA.
Since the beginning "Service has been the Key, we use our experience to improve our services and to ensure our customers receive first–class efficient movement of their freight. Customer satisfaction, financial strength, employee fulfillment and teamwork are values and priorities we have established in our company.
Memberships
Our History
Russell Transport was founded in 1993 and is a Woman Minority Business Enterprise, (WMBE) that is based in El Paso, TX. The company's initial onset was to service the El Paso / Juarez Border Corridor. And later went to service all 48 states, Canada and Mexico with locations in El Paso, TX. San Antonio, TX. San Diego, CA. & Memphis, TN. Russell Transport, Inc. leads a diversified fleet of 250 trucks and 700 trailers. Our next priority was to coordinate backhaul from outlying areas to utilize all equipment back to El Paso while at the same time concentrating on lanes that would fit our customer and driver profile.
Russell Transport has evolved into a selective dedicated carrier for the automotive and dedicated freight industry. Servicing customers such as TOYOTA, C.R BARD, EATON, HONEYWELL, OTIS, DELPHI, TESLA, PENSKE, TATUNG, GEORGIA PACIFIC, RYDER, and YAZAKI NORTH AMERICA on round trips and one way basis from El Paso, Texas and other delegated specific points. Russell's goal is to continue providing services to our customers, a full service that is of the highest quality in the transportation industry.